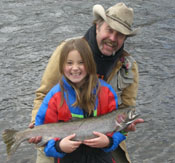 Our About Us
A little about our staff here at ThePerfectJig.com. Leading off the group...

Kevin Kirkelie.. owner and operator of ThePerfectJig.com, comes to this site with many years of fly tying, guiding and fishin' under his belt as well as an avid outdoorsman, hunter and horseman. Kevin has been a professional fly tier, hunting and fly fishing guide for many moons. He also has been the fly tying instructor at Eastern Oregon State College. Kevin has been the inventor of several fly patterns that have made national magazine publications, which helps bring his expertise in building his quality steelhead jigs highly recommended. He's an avid bow hunter and even obtained the status of "Montana State Elk Bugling Champion" back in 1988!

Next.. is our own Steelhead fishin' Guru "Wild Bill" Bliss. Bill leads the group as our head field tester for all our jig products. He has the uncanny skill of catchin' steelhead just about anywhere.. and any time that the fish are in the river. He has caught over 200 steelhead in one season! Bill systematically tears apart a section of river and covers it ever so carefully. He covers every square foot of that water like a grid lookin' for fish, and he usually finds them. He's a great instructor, and a great guide as well as being a very accomplished bow hunter. We're very happy to have him aboard!

So you can clearly see that our staff brings you the finest in expertise and quality craftsmanship here at ThePerfectJig.com . And as our Steelhead guru "Wild Bill" would say... It's not about the fishin'... It's all about the Catchin'! We're here to help you catch fish and have a fun and memorable time in doin' it! So until next time... Good Luck Fishin'!